About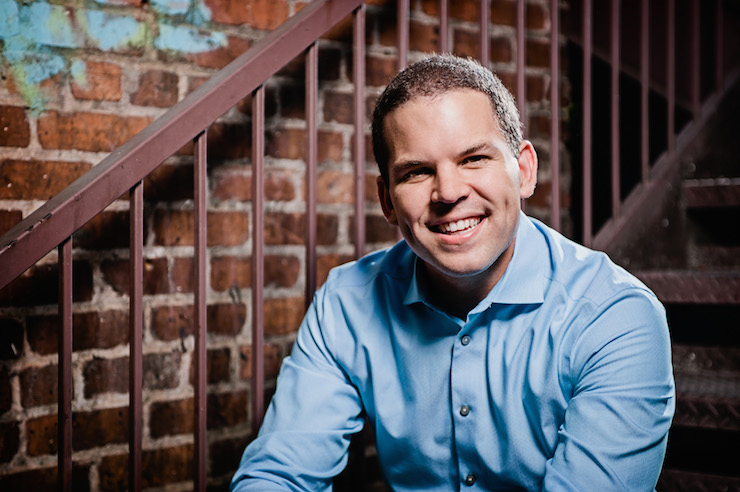 My name is Brandon Vogt, and I'm a bestselling author, blogger, and speaker. I work as the Content Director for Bishop Robert Barron's Word on Fire Catholic Ministries, and I'm the founder of ClaritasU, a online community for Catholics who want to get clear about their faith.
Along with my wife and six children, I live on a small farm outside Orlando, FL named "Burrowshire." The name comes from our two favorite fictional homesteads, the Weasleys' "Burrow" and Frodo's "Shire".) We have thirty chickens, nine goats, a pig, a small garden, and a strong desire to live the Distributist ideal.
My work has been featured by several media outlets including NPR, FoxNews, CBS, EWTN, Vatican Radio, Our Sunday Visitor, National Review, and Christianity Today, and I'm a regular guest on Catholic radio. I've been named one of the Top 30 Catholics Under 30 and one of the Top 24 Catholics to Follow on Twitter.
I've published seven books including:
I graduated summa cum laude with a degree in Mechanical Engineering from Florida State University in 2008, with minor degrees in Physics and Mathematics.
I also entered the Catholic Church on Easter 2008, just a couple weeks before graduating college.
In May 2011, after launching a successful blog and writing an award-winning book on new media, I was invited to the Vatican to dialogue with Church leaders about the topic.
In May 2013, I went live with StrangeNotions.com, the central place of dialogue between Catholics and atheists. The site has welcomed two millions visitors and thousands of fruitful conversations.
In February 2015, I launched the "Read More Books Now" Video Course, which thousands of people have used to double their reading and remember what they read.
Some of my other projects include the Africa eBook Project, which raised thousands of dollars to send digital libraries to seminarians across Africa, and Support a Catholic Speaker Month, where 11,000 people joined to promote new and upcoming Catholic speakers.
I often giveaway free books here on the blog. In fact, I've given away more than 1,000 books over the years.
Make sure you don't miss new posts by subscribing free via feed reader or email.
If you'd like to get in touch—and I'd love to hear from you!—head over to the contact page.
Visit my Endorsements page to see what others have said about my work. Here are a few examples:
Bishop Robert Barron

Auxiliary Bishop of Los Angeles, CA

"I have worked alongside Brandon Vogt for some time now in the fields of the Lord's work. He has emerged as an important voice in the New Evangelization. He is a pioneering missionary disciple, whose sense of joy for the Gospel is contagious and reassuring. He brings his energy, enthusiasm, and prodigious intellectual gifts to the Catholic conversation and extends to the culture the invitation to know Christ in his Church."
Bishop Christopher Coyne

Bishop of Burlington, Vermont

"Brandon Vogt is at the cutting edge of using the Internet and social media as a tool for evangelization. His blog is one that I subscribe to as a useful place to find good information on how to use these new tools in order to spread the Good News."
Bishop Thomas Tobin, D.D.

Bishop of Providence, RI

"We were delighted to have Brandon Vogt in the Diocese of Providence to speak to our priests about the effective use of modern media. His presentation was extremely interesting and informative to priests of various ages. The fact that he placed his presentation in the context of the New Evangelization was especially helpful. Brandon's expertise in the area of contemporary communications and especially the productive use of social media is a real blessing for the Church."
Bishop R. Walker Nickless

Bishop of Sioux City, IA

"Brandon captivated our priests and deacons with his wit, humor, and knowledge. His great love of the Church and his desire to help others share in the New Evangelization is a wonderful gift. We in the Diocese of Sioux City greatly benefited from his expertise. I highly recommend him."
My appearance on EWTN's "Life on the Rock"
My conversion story on EWTN's "The Journey Home"
To Read
If you are new to my site, you might want to start with some of these pages:
---
This blog is licensed under a Creative Commons Attribution-NonCommercial-NoDerivs 3.0 Unported license. Feel free to copy, distribute, and transmit any work on this website so long as you fulfill the following three conditions:
You must attribute the work to me by noting it was originally published at BrandonVogt.com.
You may not use this work for commercial purposes without permission.
You may not alter, transform, or build upon this work.