In his book Three Philosophies of Life, Dr. Peter Kreeft explains how he rediscovered St. Augustine's Confessions:
"Only once have I ever encountered a translation that made such a difference, that so opened up for me a previously closed book. That was Frank Sheed's translation of Augustine's Confessions, which I found to be as living as molten lava. The most widely used translation of the Confessions is the one by a Mr. Pine-Coffin, and it is worthy of his name. It is a dead translation. Sheed's is living."
Poor Mr. Pine-Coffin.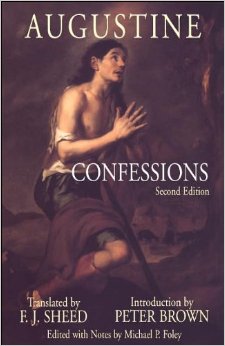 Witty jabs aside, I completely agree with Kreeft. Sheed's translation captures Augustine's poetic verve better than any other I've read. I've gone through it twice now. If you're starting the Confessions for the first time, or perhaps restarting after a failed attempt, check out the Sheed version.
At Word on Fire, we've published a beautiful hardcover edition of the Sheed translation as part of our Word on Fire Classics line of books. The volume includes the full text of the Confessions along with an introduction by Bishop Barron.
Besides the Sheed translation, I've heard great things about Maria Boulding's translation. Elizabeth Scalia raved about the book and the blogger Fr. Z described it as "[t]he best translation for most people." Rowan Williams, the former Anglican Archbishop of Canterbury, claimed, "[Boulding] has perfected an elegant and flowing style." If you're interested in Boulding's translation, get the Ignatius Press Critical Edition which pairs Boulding's text with extensive notes and commentary by top Augustine scholars.
But of the making of new translations there is no end. The renowned translator Sarah Ruden delivered a new contender in 2017, and just this year a philosophy professor, Thomas Williams published one that especially conveys the philosophical nuance in Augustine's writing.
(Trevin Wax reviewed the Ruden translation here, and Eve Tushnet reviewed the Thomas Williams translation.)