First of all, thanks to everyone who helped build our Catholic Speaker list. We ended up with over 250 fantastic speakers! It's great to know there are so many Catholics following in the footsteps of St. Paul, St. Francis Xavier, and Venerable Fulton Sheen by proclaiming the Gospel far and wide. However, since one goal of Catholic Speaker Month is to connect individual bloggers with each speaker, we need to whittle the list down to a much-more-manageable 100.
Hence, the voting. As I explained before, this vote is not meant to gauge a speaker's relative value. It's not a popularity contest, nor an exercise in celebrity. It's simply a way to promote great Catholic speakers and introduce those you may not have heard of.
The field is much larger than expected. Because of that, voters will be allowed to select their 15 favorite speakers. You can only vote once though, so take your time, read through the whole list, and choose your favorites. I'm sure most of the "big names" will easily make the final 100, so if there's a lesser-known speaker you'd like to feature, don't use all your votes on the household names. After all, this project is partly meant to raise the platforms of speakers who aren't yet well known.
After the voting wraps up on Thursday (8/23), here are the next steps:

— Choose your Speaker (Thursday, August 23)
After the voting, I'll tally the results and list the 100 Catholic speakers with the most votes. The list will go live here at 9:00am ET on Thursday, August 23, and once it does you'll be able to choose one speaker to blog about. Requests will be granted on a first-come, first-serve basis so be sure to check back on Thursday morning.
— Celebrate "Support a Catholic Speaker Month" (September 2012)
After you claim your speaker you'll then have several days to write about him or her. The style is up to you: you might choose a biographical post, perhaps a collection of video or audio clips, or maybe even a full-blown interview. Since the whole month of September will be marked as Catholic Speaker Month 2012, you don't have to post right on September 1, though the earlier, the better. When your post does go live, I'll link to it from the main Catholic Speaker Month page and invite everyone to check it out.


Also, since our goal is to spread the word about these great folks, we need your help. Consider pointing your readers, followers, and fans to this voting page and encouraging them to vote. You might also paste one of the graphics from our Badge Page onto your website, blog, sidebar, social media account, bicycle, unicorn, tractor, or wherever you want. [Badge link code here]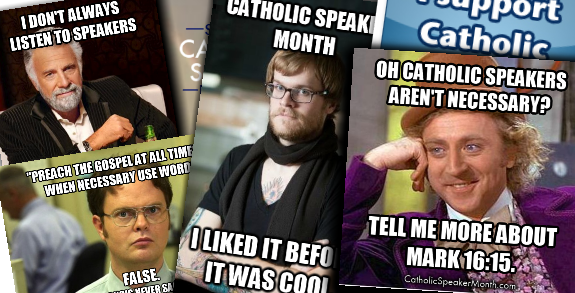 Finally, I want to again thank Matt Warner for giving two thumbs up to Catholic Speaker Month. The idea was all his and he deserves the credit. I'll assume you're one of the 17,000+ people who follow his blog, Fallible Blogma, but if not come join the rest of us.
Now on with the vote!

---
---

After voting, invite your friends to vote by sharing this link on Facebook, Twitter, Google+, your blog, of wherever you can. Click below for a quick tweet or choose one of the social media sharing icons at the bottom of the post:
I just voted for Support a Catholic Speaker Month 2012 and you should, too! http://bvogt.us/MAm4wt #scsm12 [Click here to tweet this]
Just chose my 15 favorite Catholic speakers. Who are yours? Vote here. http://bvogt.us/MAm4wt #scsm12 [Click here to tweet this]